Another season has passed and here I am once again to bring you my current favorites from Hell Bunny. It's taken me many years but I can now proudly say that I love swing style dresses and petticoats.

Now don't get me wrong I still adore my wiggle styles but there is just something so fun and playful about a swing dress or skirt.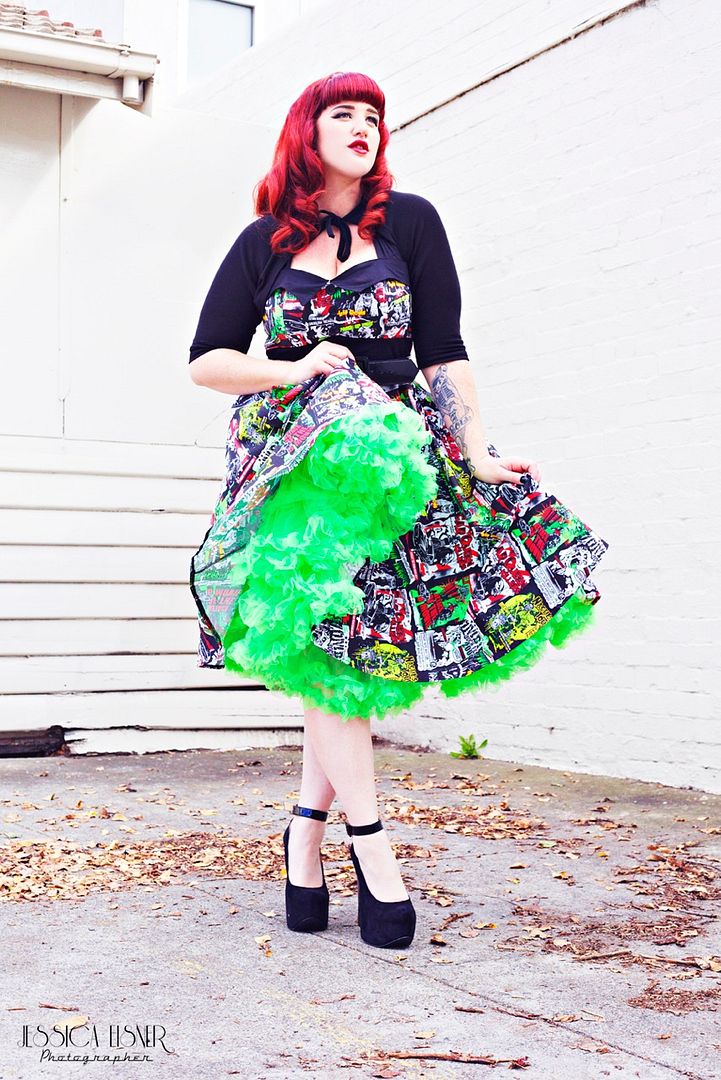 B-Movie Dress
- $74.95AU
Hell Bunny Green Petticoat
- $48.95
Heartbreaker Fashion - Betty Bolero in Black
- $34.00US
Luichiny
Eye Doll Platforms
- $89.95US
Being a big B-Grade Horror movie fan I love pretty much anything that has this Monstertastic print!

This swing dress (in an XL) is the same style as others I have in my collection so I should have remembered to size down to the Large for a tighter fit. This is a halter style so it can accommodate different sizes chests.
But overall this dress is brilliant! The bright print goes perfectly with the super psychobilly green of the petticoat! I added the waist belt to define the waist band as it is a little too roomy for me around here. The petticoat not only matches this dress perfectly but also makes the 50's swing style skirt work to it's full potential.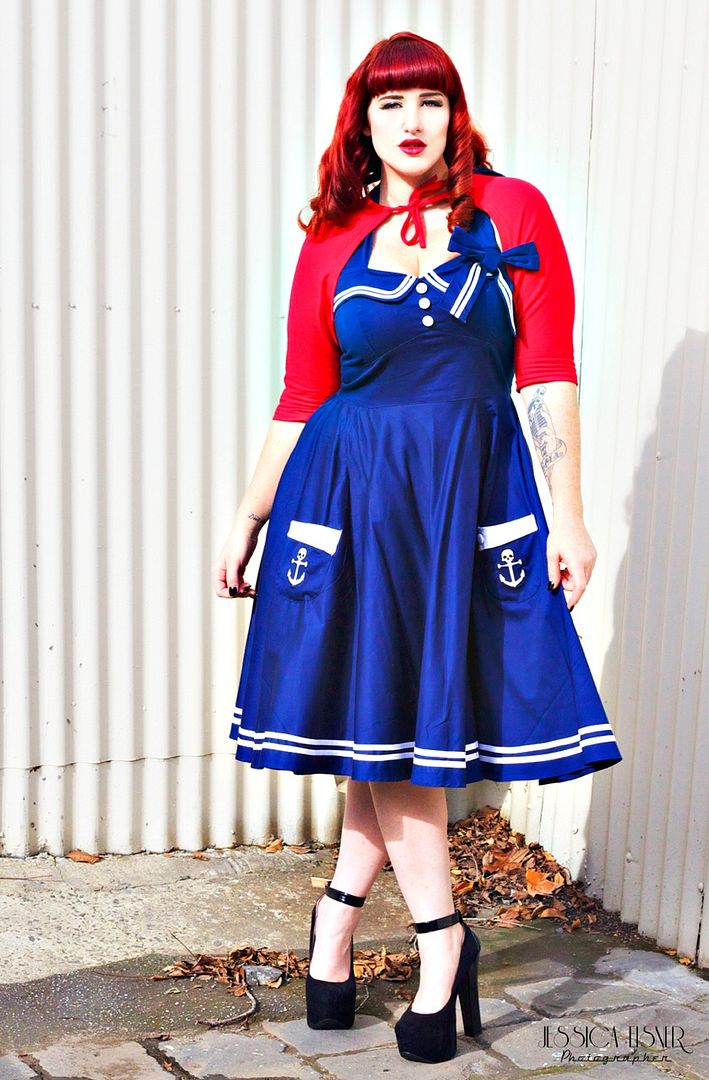 .
Motley 50's Dress in Navy Blue
-
£49.99
Heartbreaker Fashions - Betty Bolero in Red - $34.00US
Bringing out my love for all things nautical with this dress! This is the same style as the B-Grade print above so you can see its a little loose around the waist also. I am not wearing a petticoat under this dress but it still retains the great aline/circle skirt shape.
The fabric on this is a lot heavier than the previous dress and very lush. I adore the addition of pocket the bow on the bust/strap. Every little feature on this frock is adorable and so perfectly nautical!
I paired this with the red betty bolero as the navy and bright red always suit each other perfectly! I would have loved to have worn this with a matching thick red waist belt and heels but I forgot to pack them! Silly me!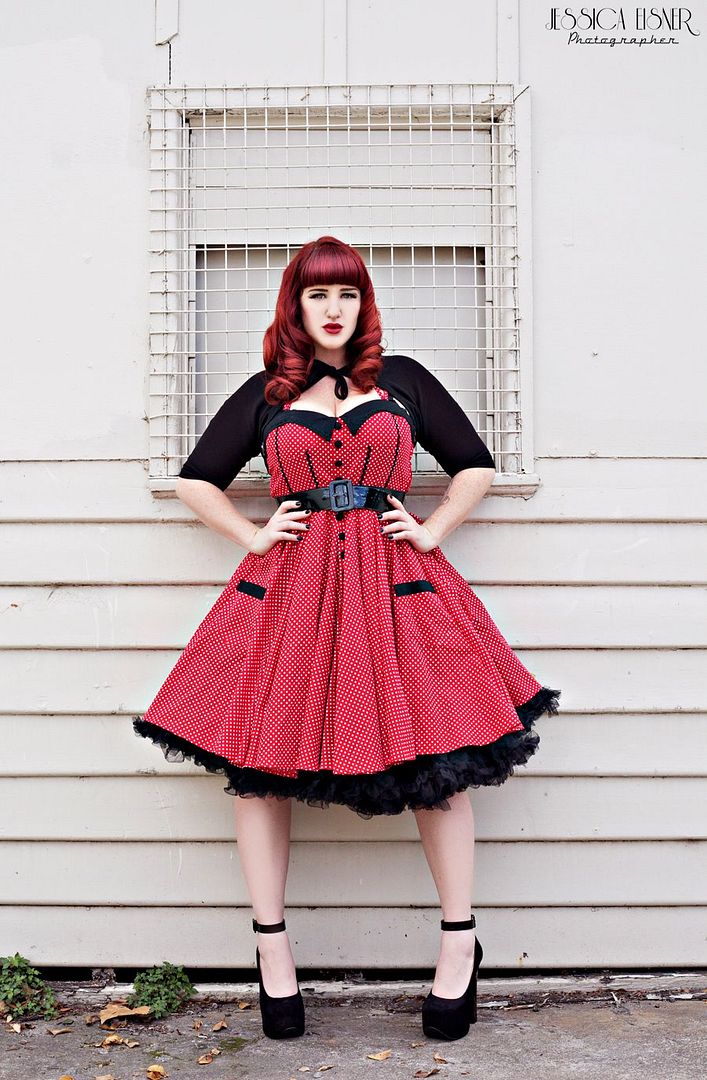 Peggy Sue Dress
- $74.00AU
Heartbreaker Fashion - Betty Bolero in Black
- $34.00US
Hell Bunny Black Petticoat
- $48.95AU
Finally we get to my stand out favorite of all 3 dresses. What stands out to me about this style is the black features throughout the red and white polka dot print. This is an XL but due to the more form fitting shape it's a perfect fit. The padded bust holds you in nicely (I am wearing a bra) and the back of the bodice is smocked from the top of the waist band for a perfect fit. There are pockets on the front of this style also which is fantastic.
My bolero covers the straps of this dress but they are spaghetti thin and there are 3! One is a falter and two are just halter straps. You can remove all of these depending on how you want the garment to look.
I paired this with a black petticoat, belt and bolero to make the black buttons and other accents pop even more so!
Here is a clearer version of the button detail.
Many thanks to my photographer and fellow Bella Model
Jessica Eisner
for shooting and working with me on this! She is an awesome photographer so check out her work via
facebook
and book a shoot. I hope to work with her again shortly.
To find out more about Hell Bunny you can find their wholesale website here
Popsoda
or contact them on
Facebook
.