I just got back some of my own choices from the shoot I did for Pinup Girl Clothing and Deadly Dames for Plus Model Magazine and I had to show you guys.
As you may know Pinup Girl Clothing is my favorite brand so I was so glad I could work with them and Plus Model Magazine on this editorial.
It was an absolute pleasure to worth with
Jaimie Nicole Photography
and
EBONY MAIZE makeup artistry.
These women are so extremely talented and creative, working with them was a dream!
Now as a curvy girl I always head to Pinup Girl Clothing for my clothing as Laura and Micheline design styles that feel like they were made for me.
Micheline Pitt's range Deadly Dames is my stand out favorite, each season she blows me away with her brilliant creations.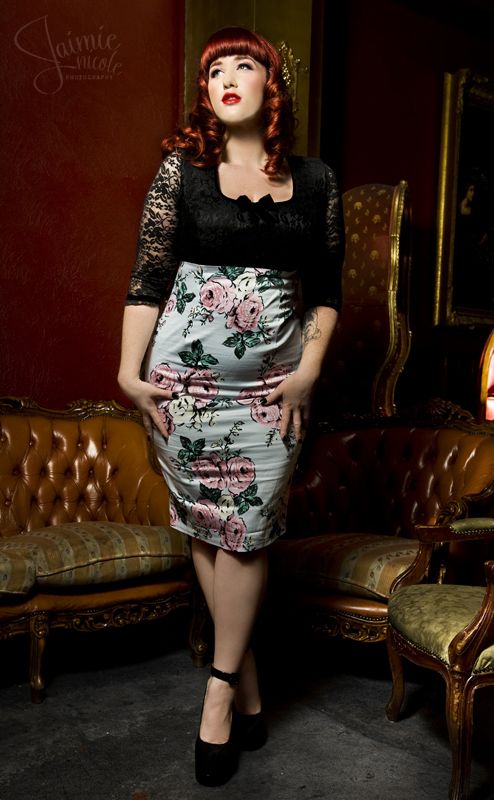 Deadly Dames Je T'Adore Dress in Victorian Rose Print
- $148.00US
Luichiny
Eye Doll Platforms
- $89.95US
Like every item I own from PUG this dress fits like a dream! I'm wearing the Je T'Adore dress in an XL and it form fitting and really hugs your curves. The mix of black lace, velvet bows and this stunning blue floral print make this dress stand out in such a perfect way. This is fully lined and so yummy!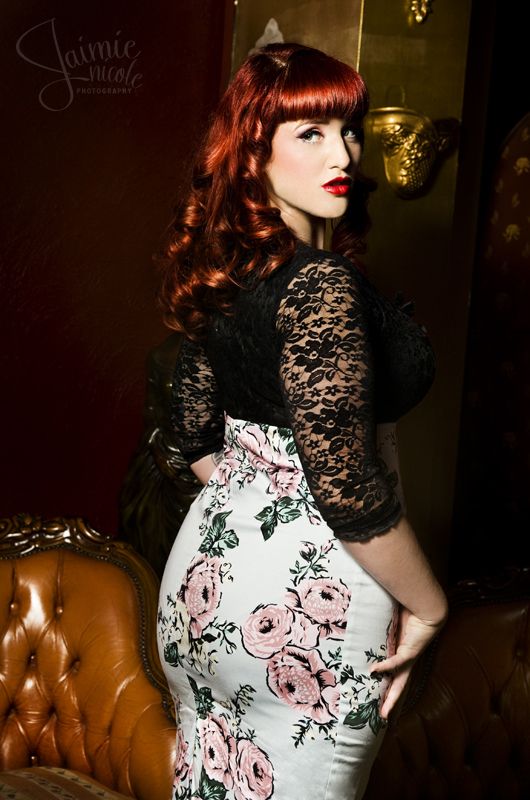 This dress is a tight fit with not all that much give in the fabric so be sure to order very close to your measurements. Token booty shot added so you can see the print on an ample behind.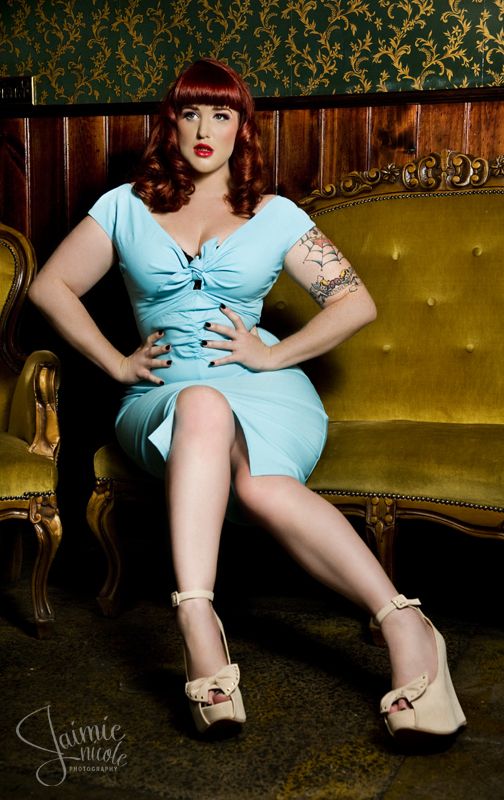 The Niagara Dress in Tiffany Blue Bengaline by Dixiefried
- $96.00US
Luichiny Sav Vee Wedges
-$84.95US
I never thought this style would suit me but I let Micheline pick the styles and the colours for this editorial and I have to say I'm very impresses. This dress makes you feel like an absolute pinup bombshell. The reproduction style of the dress originally worn by Marilyn Monroe hugs you in all the right places. The style is so flattering for curvy shapes due to the fitted silhouette, and a sexy gathered detail down the center front of the dress which hides any tummy imperfections.
The front slit just makes this dress a little more sexy and the colour! Oh the colour! I've not started to purchase many more baby blue items because of this dress. The front tie does show some skin so be wary of this when you are choosing your bra. I think could actually size down in this fabric as its so stretchy I would love to get this in the rust, darker blue or the red.
I was unsure what shoes would work with this so I opted for Luichiny Sav Vee Wedges in Beige and I think they suit this perfectly. The wedge though tall is so comfortable and due to the nude shade they elongate your legs.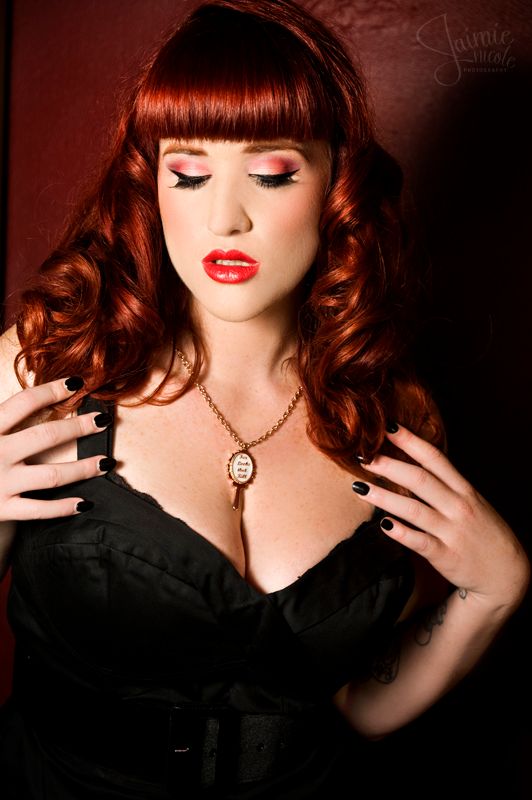 Deadly Dames Vamp Dress in Black
- $96.00US
Deadly Dames Beauté Hand Mirror Pendan
t - $36.00US
The Vamp Dress is my addition. It is the best designs ever created for girls with large chests but its hands down my favorite style available at Pinup Girl Clothing. I'm that addicted to this cut that I own this dress in black, zebra print and red polka dot. I also just purchased the black, red polka dot and pale blue tops in this style. Next on my wishlist is the newly released peach vamp and the mint which is coming soon.
Perfectly paired with the Deadly Dames Beauté Hand Mirror Pendant! This is actually on a longer chain but I shortened it. I usually have issues with loosing longer pendants in my cleavage but its easy to shorten most chains yourself. Usually gold is not really an option for me but I love how this pink gold shade works with my hair.
This necklace features a real oval mirror on one side and the words "for looks that kill" on the other.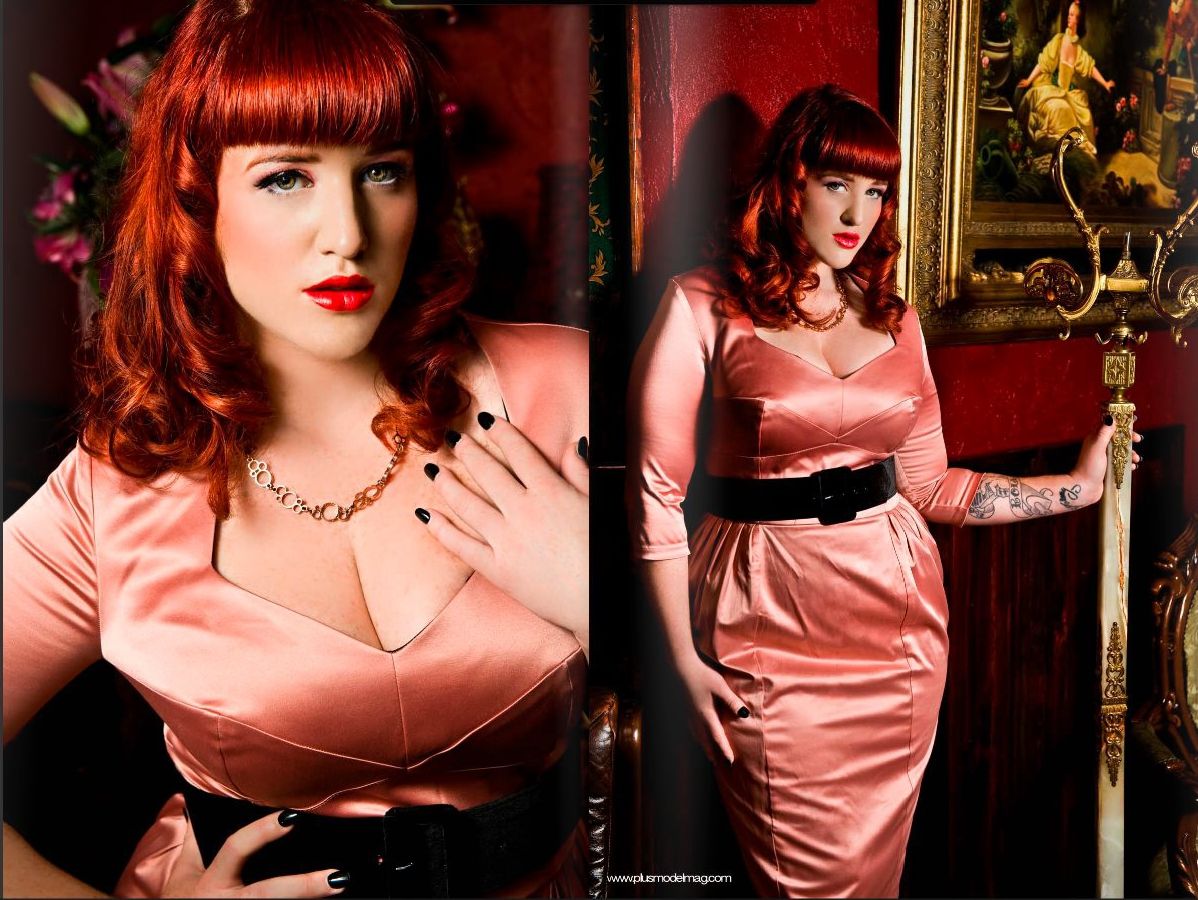 (These two shots were published in the editorial - view more images in the
April 2012 Issue
)
Yet another colour I would have never chosen for myself but I'm so happy Micheline picked it! This Mauve is just as amazing in reality as it is in photos.
The Mon Cheri is made from delicious Shakira satin. With a fully seamed bust and front waist have a special fusing for structure and support, and the dress is fully lined. The pleated hips create a more exaggerated hourglass shape which as you can see does not make a curvy girl look any bigger. It just compliments the curves even more. The belt is so soft and lovely I've been wearing it more than my other PUG belts. I'm wearing this and all other items in the XL.
This dress is designed to be form fitting and and the skirt to be worn tight to the body so if you are between sizes order up and get this tailored for a perfect fit. The one thing I suggest is don't attempt to ever pull this over your hips. Due to the tight fit you have to step in and out of this garment if you don't you could rip the back seem.
Finally we paired this soft tone with another of the pink gold plated items from Eldorado Club. This piece is so sweet and feminine and my favorite feature is the tiny champagne glass charm that dangles down your back.