I've got a huge love for fashio
n but I don't limit my love for clothing on just dressing myself. If I had a never ending source of cash I'd style everyone I know!
So recently I convinced my friend Jay to let me style him head to toe and do a photo shoot with me. Jaymz is the lead singer of the local Melbourne Celtic folk punk band
Between the Wars
so he is no stranger to being in front of a camera. Check out their
music via
Facebook
or the BTW
website
.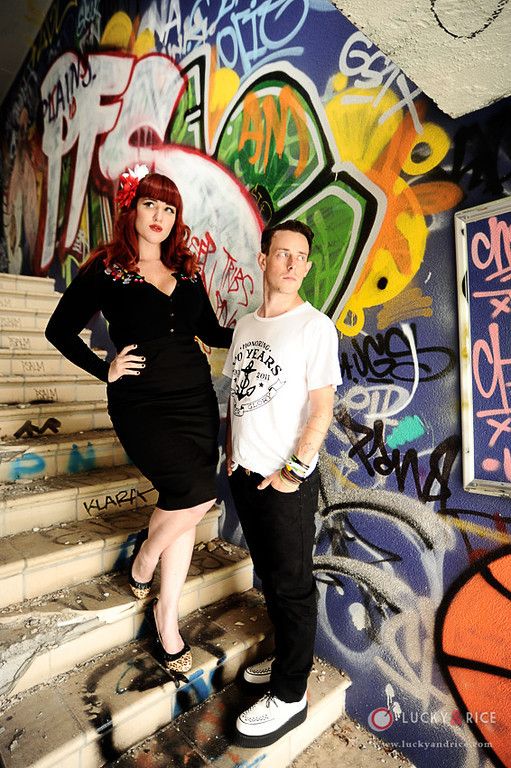 While looking for how to style him I did a little research into what are the most flattering styles for short men. Jaymz is actually a few inches shorter than me so I wanted to put him in something that flattered his body shape and made him appear taller. As you can see from most images even with 5 inch heels on we look the same height.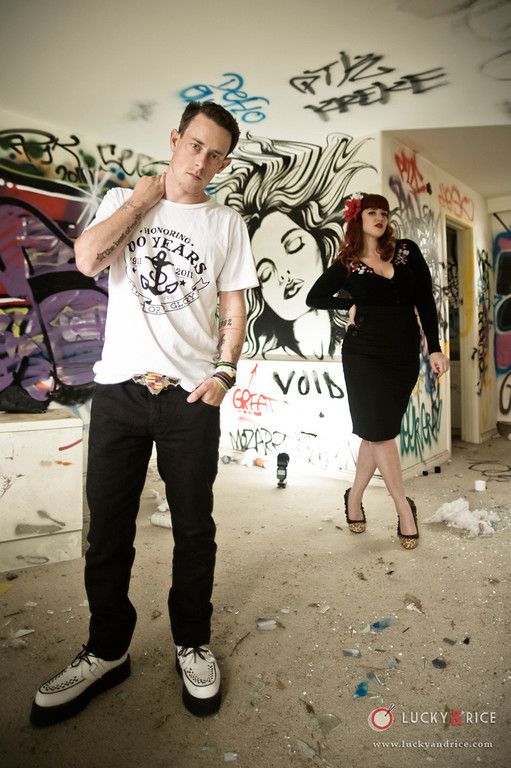 Jaymz's Outfit:
Sailor Jerry Tee
- $22.99US
Black Skinny Jeans - Kmart
Belt Buckle - From my collection
T.U.K White Leather Mondo Creeper
- $67.00US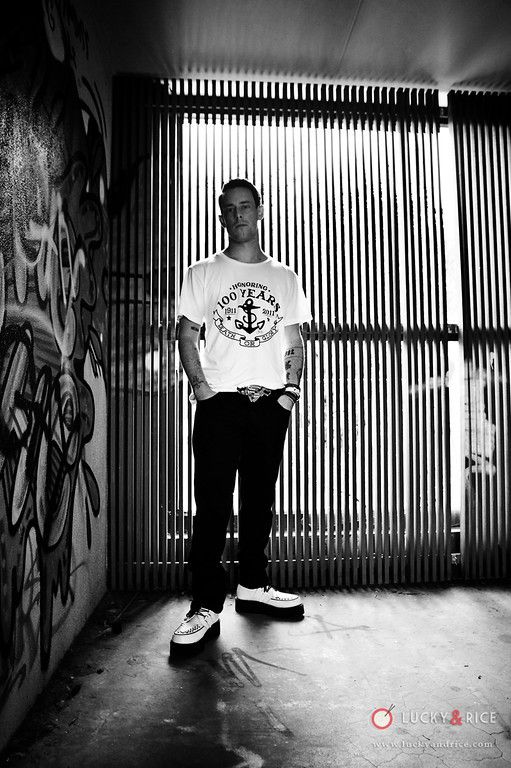 Skinny jeans make your legs appear longer and thinner when you wear them with shoes that have a little bit of height. This style jean (though a little big on Jaymz) are the perfect pair of pants to wear with Creepers. Be sure to hem them to the right length or wear them slightly bunched up at the ankle. If you fold the cuff it will just shorten the length of your legs.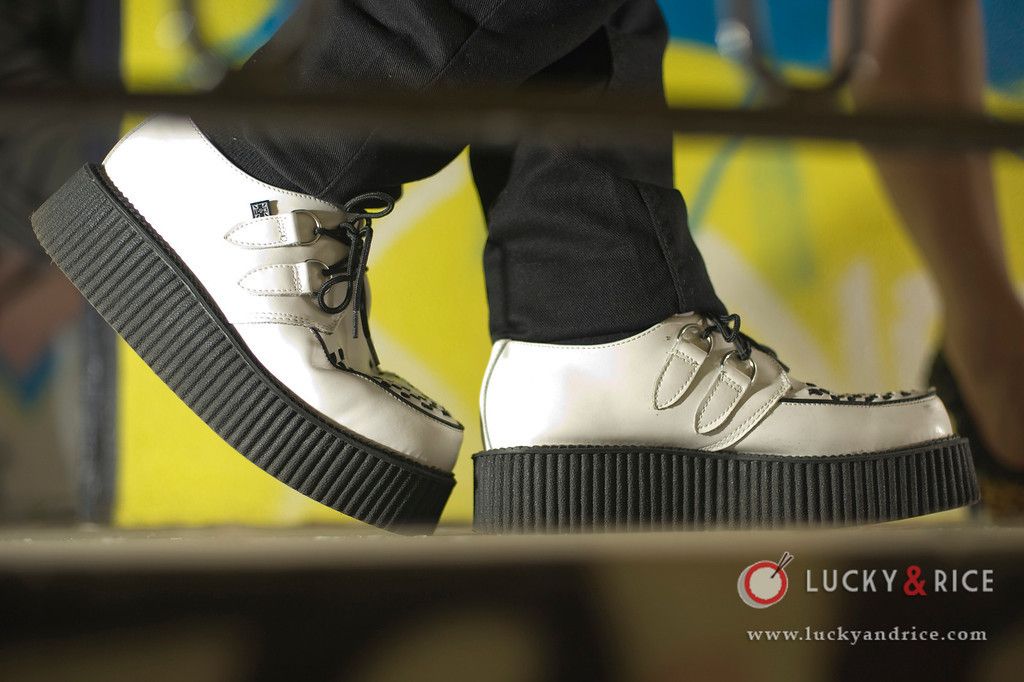 These
Creepers
are hot! I've always loved this style shoe on men, there is something very funky about them and I love the super thick 1 7/8 inch Sole. I've tried to wear this style myself but they don't seem to suit me but they suit Jaymz perfectly. They are comfortable and make any outfit look brilliant! If you are looking to buy these for yourself these are a size 8US-Mens and they work out to be a 10 women's. I tried these on and they fit a little loose but that might just be the style.
My outfit :
Collectif Jo Cardie in Cocktail
- £35.00
Collectif Hilda Skirt
- £30.00
T.U.K Platinum Collection Leopard Cow Hair Ruffle Heart Heel
- $130.00US
Flowers -
Andy's Eye Candy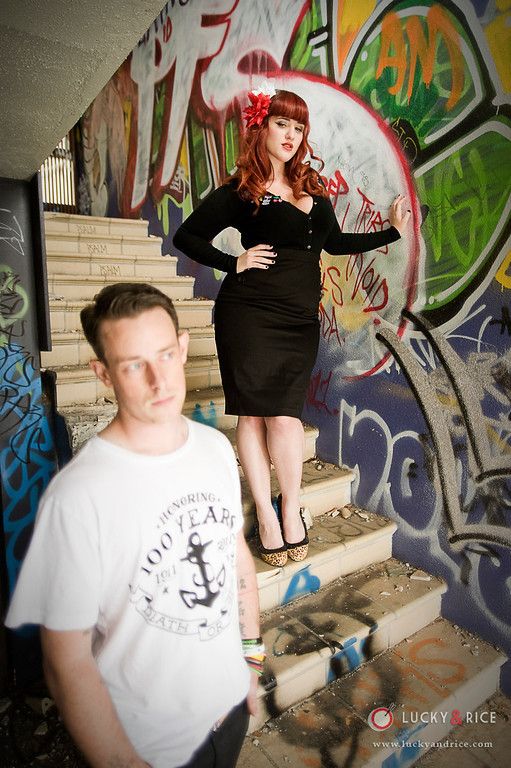 I LOVE this cardie with all my heart! The perfect fit and the most adorable tiki's and cocktails embroidery around the collar. With a little stretch this is a really form fitting piece of knitwear for your collection. I'm wearing this with skirts, wiggle and swing dresses it matches so many items in my wardrobe. I paired this with the Hilda wiggle skirt from
Collectif
! The skirt is a great legnth and the best black pencil skirt I've had in years. I'd actually like this style without the buttons so I can wear tops over, not just tucked in
These are my first items from
Collectif
and I'm 100% sold! They create really cute styles, great fabrics and a perfect fit. I'm wearing a size 16UK in both of these items and they fit perfectly for my measurements. I now need more skirts and cardigans and maybe a dress or two from this store!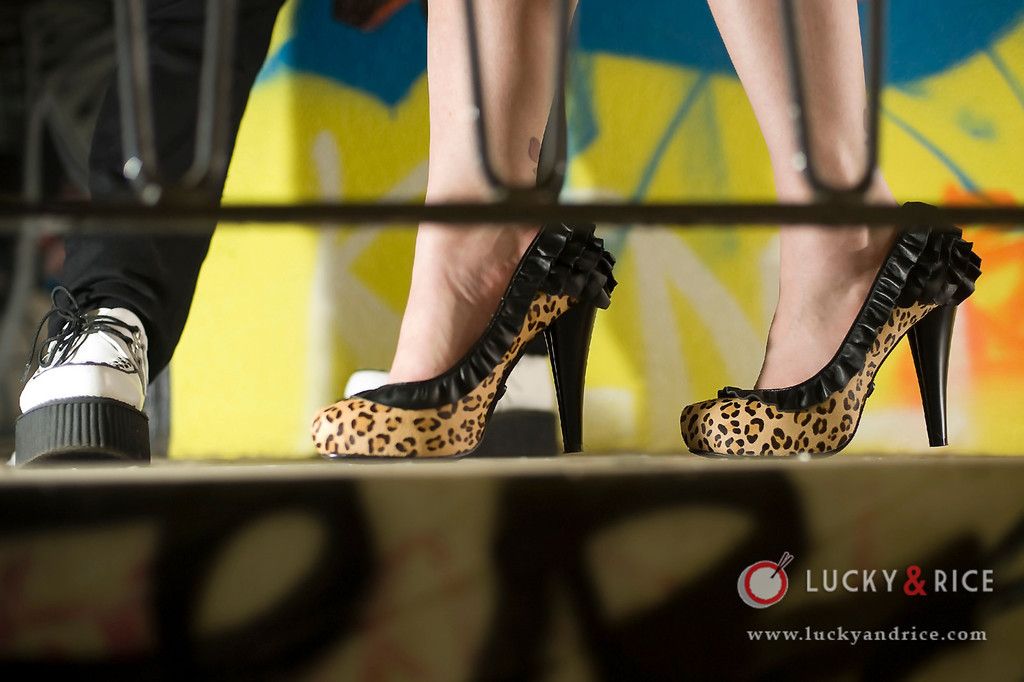 The T.U.K
Platinum Collection
- Amazing! All these styles are stunning! Covered in a cow hair leopard print with the cutest ruffle detail around the top of the shoe. These 5 inch heels are so easy to walk in and very comfortable. Being a leopard print addict I knew when I saw these that they needed to be on my feet. I'm wearing these in a size 10 and they fit perfectly. I can't wait to wear these with everything!
All the heels in the Platinum Collection include a dust bag and extra pair of heel tips. These are in the higher price range for T.U.K styles but they are worth every cent.
Now time for a outfit change!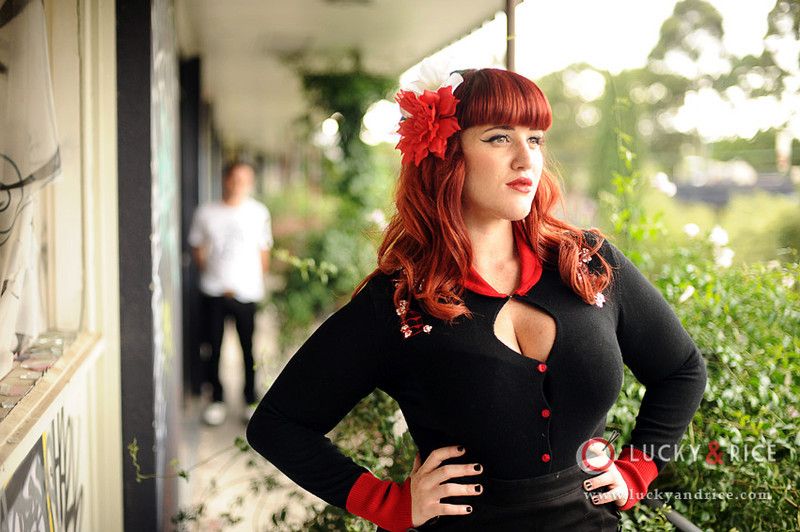 Collectif Mariella Cardigan with Birdcage Embroidery
- £35.00
How cute is this cardigan? From the adorable embroidery to the red buttons and peter pan collar this is too adorable. This style actually has the same red as shown on the sleeves at the base of the cardigan but my skirt is hiding that feature so click the link to see full images. I love that I can wear this tucked in and be mostly black or un tucked for a brighter look.

This style is super stretchy and light weight making it perfect for the current cool weather we are having as we enter Autumn. You can get this cardigan the following colour combinations Black/Red (as shown), Pink/Black and Red/black. The was a bowtie that was attached to this top in Red but I did not like the way it sat on my bust so I took it off.

A new top, well then I need shoes to match!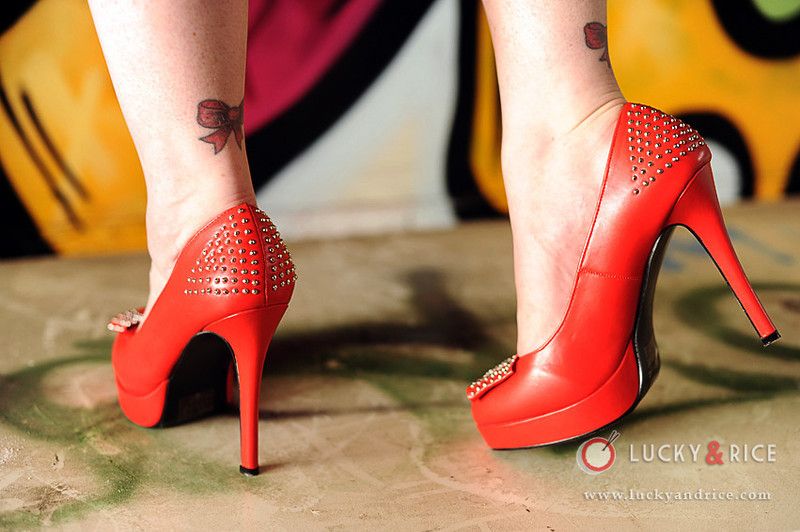 T.U.K Red Micro Studded Sky-Hi Platform Heel
- $52.00US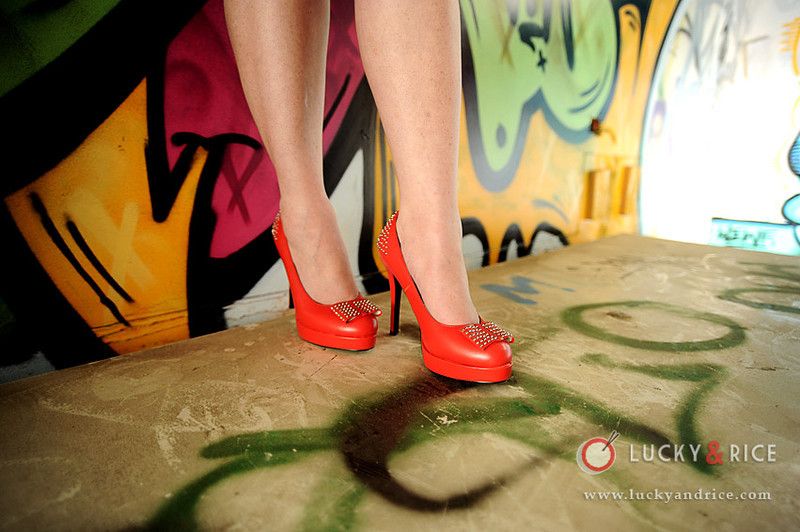 I actually own these in black so I knew they would be perfect. The black pair are fantastic but every girl needs a few pairs of red shoes and what makes red shoes better? Studs and Bows! I'm a stud freak, I love them on my clothing, on my accessories and my jewelery.

The heel fairly high but they are easy to walk in and the faux leather is really comfortable and soft. They add a little touch of rock and roll to any outfit.

I went a little bit picture happy with this post but I liked so many of the shots! Here are my last two favorites. Black and white always wins me over!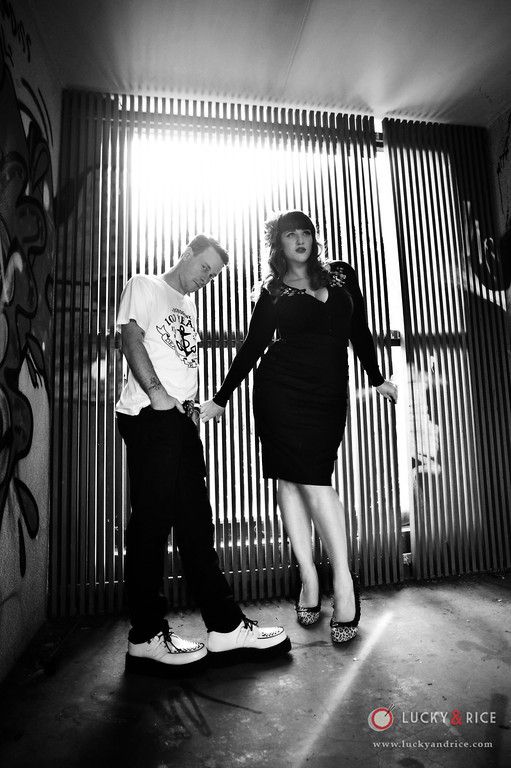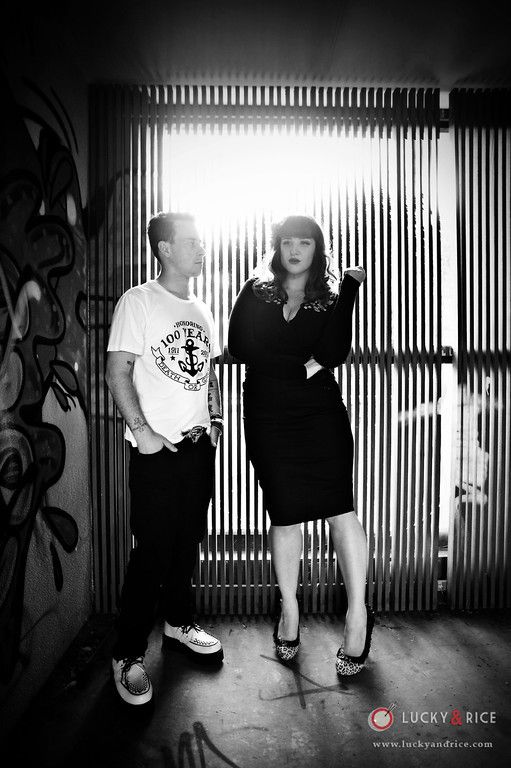 For more information regarding sizes at Collectif here is the size chart :
It get way too excited when I get to dress up boys so look out Boyfriend you are next in line!! I'm looking to style more of my friends shortly to so you can expect girls, boys, curves and more in the future! Watch out everyone who knows me I might be coming for you!
Many Thanks to Michael Alesich from
Lucky and Rice.
It's always such a pleasure working with you and the fact that you are willing to sneak into run down abandoned building with two crazy people is awesome! I can't wait to shoot with you again.