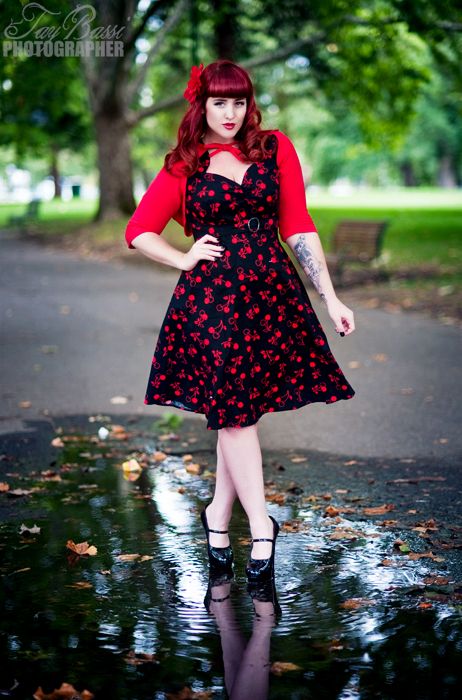 Aimee Dress Black BadaBing Cherry
-
$90.00US
Betty Bolero in Red - $34.00US
Hair Flowers - Andy's Eye Candy


I've been lusting after the Aimee dress for some time and I'm so thrilled now that I own it! The cut is perfect my bust, curves and shape. I love the very classic yet simple shape to this dress and how feminine I feel when I wear it. The higher bust is a bit more demure that most of my dresses and I like it - Shock horror no boobies!

I am wearing an XL and this dress really feels like it was made for me! Although you can see it in these images (you can via the website) this style has short capped sleeves which are perfect if you don't like to show much upper arm. Made of 100% cotton it breaths in the summer heat and is a dream to wear. A matching belt in the same print is provided but I also like to wear a red or black wait belt with this style.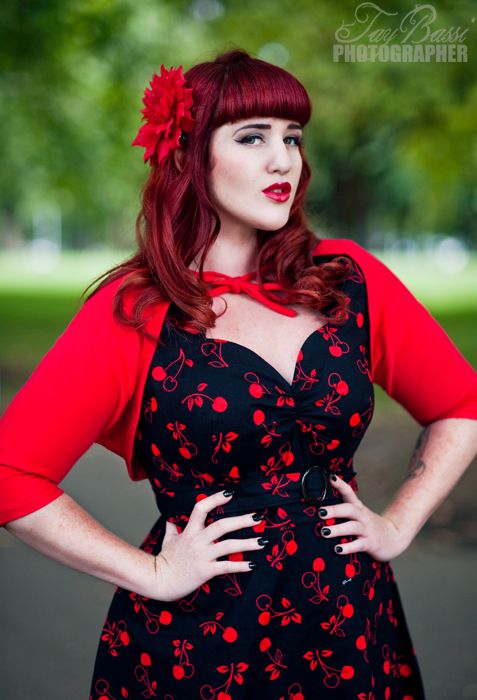 Say hello to my newest addiction the
Betty Bolero
! I don't know how I lived without this bolero for so long. I will admit I don't like my arms and I have a small addiction to cardigans and cover ups. So when I saw this bolero I knew we were a match made in heaven and I wear it to death!
This style matches every pinup dress in my wardrobe and the adorable bow tie made every outfit that little bit cuter. I'm wearing this style in a Large as its rather stretchy cotton knit. The bow tie was also slightly long for my bust so I snipped it shorter.
You can also purchase this style in
Black
,
Navy
,
White
and
Navy with a red anchor motif
. I need all of these! I would wear any colour!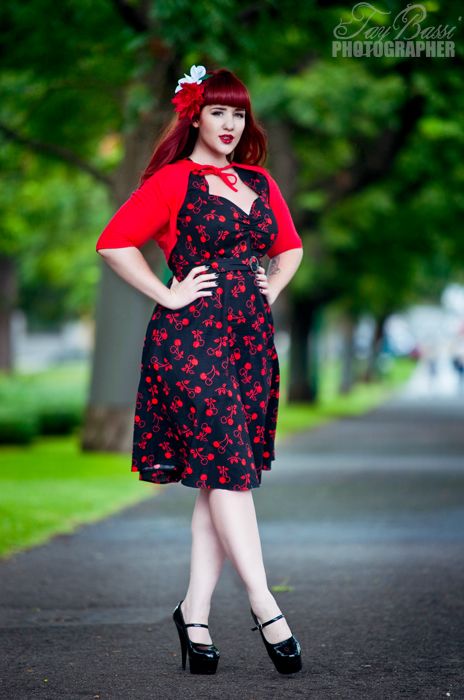 Have you noticed the hair flowers I'm wearing in my latest shoots? I found the most amazing accessory company
Andy's Eye Candy
and I've fallen head over heels with their hair flowers. They are currently in the process of getting their shop up and running again but for now you can contact and purchase directly from their
facebook account
.
So not only do I need every Betty Bolero at Heartbreaker Fashions I also think I will maybe add one or two prints in the Aimee dress to my wishlist, polka dot and this stunning print :
I have to say this publicly I'm
smitten
for
Tay Bassi
the brilliant photographer who took these images . Find more work here
website
and via
facebook
. In this shoot we shot 3 outfits and would you believe we were being rained on half most of the time while these were taken!!!