'
Dollchops Clothing
is a unique brand of handmade Pin-Up Retro style couture, made to your measurements just for you'
Dollchops
is all about femininity and classic styling to ultimately flatter and celebrate the form in all it's curviness! Their aim, to create and provide fabulous wardrobe attire for all you fierce femme fatals worldwide that require something a little different than average rags on the street.
With dresses, jumpsuits, jacket and skirts Milly has created an amazing range of unique, devilish designs that will make your feel amazingly curvy and look like a total vamp! With bows, hearts, leatherette fabrics, stunning suiting and wiggle shapes you will feel amazing in these outfits!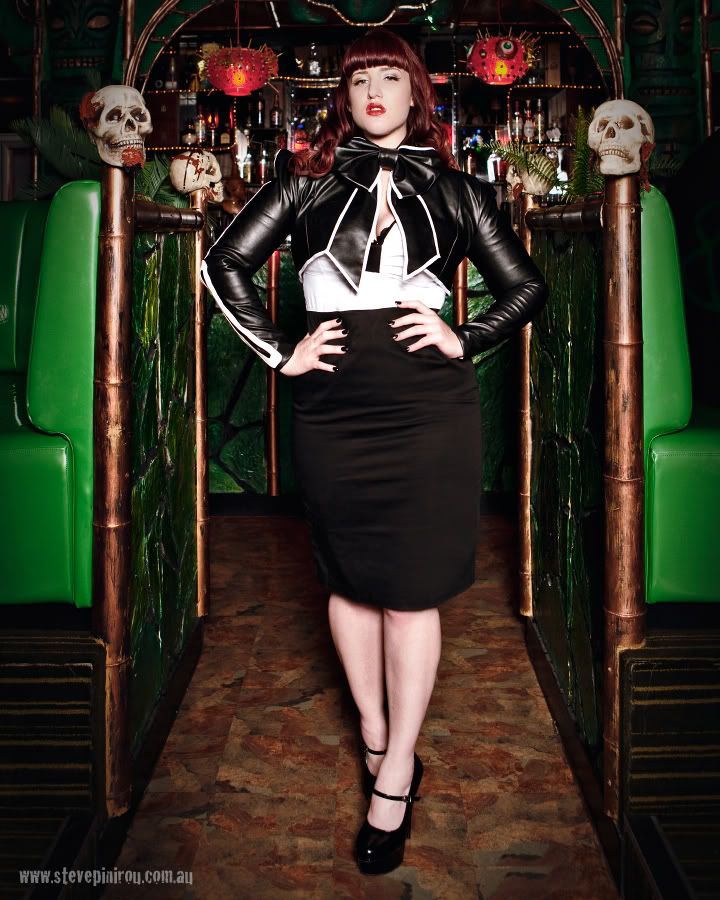 Pussy Bones Cropped Jacket
-
£65.00
Deadly Dames Troublemarker Dress - $102.00 (coming back soon)


I ordered this cropped jacket when there was a sale on via the website and now I affectionately refer to this little skelly armed jacket as my baby. I absolutely adore this and being that its summer right now I'm a little grumpy I can't wear it! I ordered a size 16 but got my measurements taken to make this the perfect fit.


It is a snug and perfect fit! The bow is not attached to the jacket but is a choker/necktie creation so you can wear it with or without. This jacket is hot!!! It suits so many of my dresses, skirts and tops and once summer passes I know I will wear it like crazy.
As soon as this jacket arrived I knew that it would be a perfect match for my
Deadly Dames Troublemarker Dress
!
Spec's bellow :

Details include quirky leather skeleton arm
* (please note this detail is just on one arm)*
*Trimmed throughout with white contrasting trim and matching buttons on the back of the jacket.
*Fastens with pussy bow on the front which is fully detachable.
*Fully lined

So please check out all of the brilliant designs
Dollchops
has to offer and remember you can order 'made to measure' if they do not have your size. Look out in early 2012 for a new design from Dollchops that will debut right here.
This location is
LuWow
at 62-70 Johnston Street, Fitzroy VIC 3065. You can also book at table or ask any questions via
bookings@theluwow.com or simply by calling on 03 9417 5447
Thank you again to
Steve Pinirou
who shot this set. You can find his website
here
or his facebook page
here
and you can expect more collaborations in the new year from us!