I am forever on the look out for the perfect pencil and boobie top. I'm a big hipped, big busted girl who is not afraid to show what I was blessed with and I love finding amazing garments to share with you guys.
This post is a mixture of both
Sourpuss Clothing
and
GetWaisted
items and I will be providing links to both.
First I have to start with my new favorite top :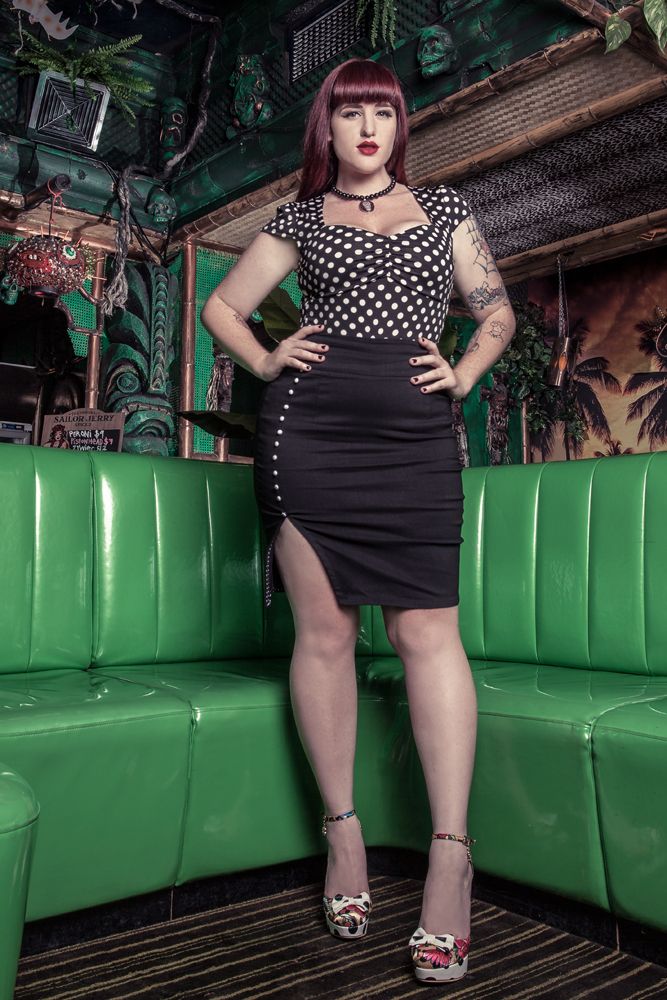 Sourpuss Va Va Voom Skirt Black & White Polkadot Top
- 39.90€
(currently the only place I can find all sizes and colours of this top)
Sourpuss Through The Heart Skirt
- $40.00
Iron Fist
Now I was sent two of the Va Va Voom tops and this specific style is an XL. The fabric is soft silky and a dream to wear. The design also makes your bust look BRILLIANT! This is THE boobie top. I would rather this was a size large as it's a little loose but I still adore it more than any other top in my wardrobe. From the small cap sleeve to the gathered bust it is really the most amazing top.
Paired perfectly with the Through The Heart skirt. This high waisted stretch pencil skirt (worn here in the XL) is a short and sexy little number. I'm a huge fan of the high waisted skirt but until this style I'd never contemplated the front split. This is a perfect fit and really hugs my curves but the outer edge of the split does tend to pop out a little. I'm not bothered at all by this as the fabric show beneath is an adorable matching polka dot. The split ads a little more sexy to the style in my opinion.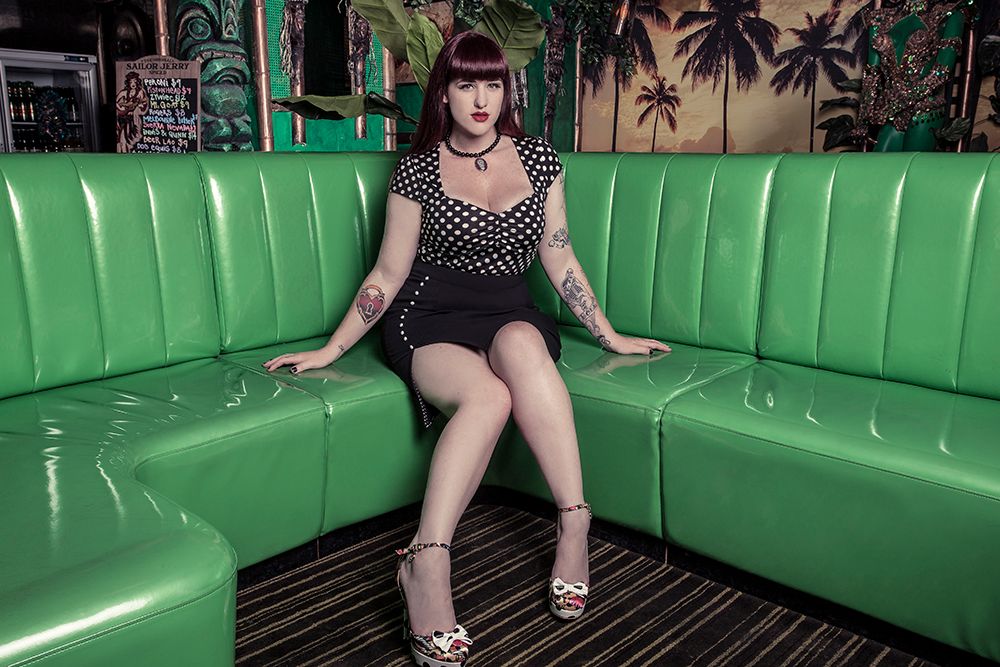 I showed sneak peaks of both this top and the other colour way on Instagram and I have never had so many compliments! It is honestly the best top for my body shape and I think Sourpuss really need to create more prints, more plain colours and even sleeved options of this top.
I'm also wearing my Debstar Design Tiki necklace with this outfit which matches perfectly with the location.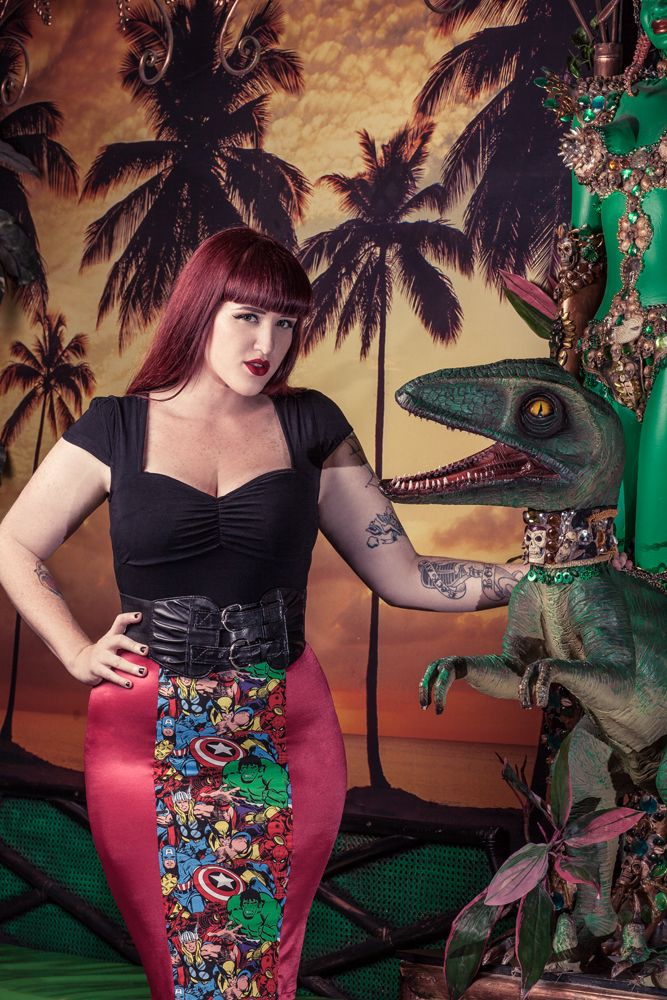 Sourpuss Va Va Voom Top in Black
- 39.90€
Get Waisted I Heart Marvel Skirt
- $50.99
My second favorite of the Va Va Voom tops as everyone needs a plain black brilliant top. This style is the perfect fit in a Large. If you can't tell by the previous few paragraph's I'm totally smitten for these tops!
Paired with my new favorite pencil skirt created by the awesomely talented
Get Waisted
! I'm a huge Marvel fan and have this print on everything from my knickers to my pjs. So when I saw this hip hugging Marvel skirt it had to be mine. The design is simple yet so awesome. Made from a super stretchy fabric (I ordered the Large) it has an elastic waist which I chose to hide beneath one of my favorite waist belts.
It's bright, figure hugging and holds in your tummy. This skirt will make you stand out for all the right reasons and is definitely a conversation starter. This skirt is for the very brave as it is super skin tight and really emphasizes your shape. I feel like a million dollars in this outfit!
What better to pair this bright superhero filled skirt with than the always perfect
VAN ESSA Pump from Luichiny in Cobalt Blue
- $89.95. This style is my stand out favorite from
Luichiny
. From the huge high heel, the really comfortable platform and the adorable bow peep toe combo it really is the my ultimate shoe. I will one day own every colour and style from Luichiny, they are the BEST in footwear in my mind.
Many thanks to my amazing photographers at
http://www.robinelk.com/
these two brilliant people just rock my socks off and I always adore working with them.
Also a huge thank you to the brilliant people at
The LuWOW
who let me shoots once again in their amazing venue. If you live in Melbourne or visit Melbourne you must get to LuWOW at 62-70 Johnston Street Fitzroy. This venue is not only amazing visually but they have brilliant shows, epic cocktails and the loveliest staff. Plus they have a dinosaur - how cool is that!!! I might have hugged him like crazy after these shots were snapped.