A while back I emailed
Jessica Louise Clothing
and asked if I (a little larger back then) could fit into her largest size. This conversation started the ball rolling on many others and in the end the outcome - a
full plus size range
was created.
After helping gather sizes, measurements and lots of valuable information from the curvy girls of the world Jessica was oh so lovely and sent me a giant care package of the new plus styles to try out. It turns out I dropped a size since we started talking so I had to change everything for a smaller size - crazy stuff! I'm wearing a size XL in everything and I'm an Australia 14-16.
So with an amazingly cute, bright and fun wardrobe in hand that now fits like a glove I set up a shoot with the dream team of
Robin Elk Photography
and this was the end result!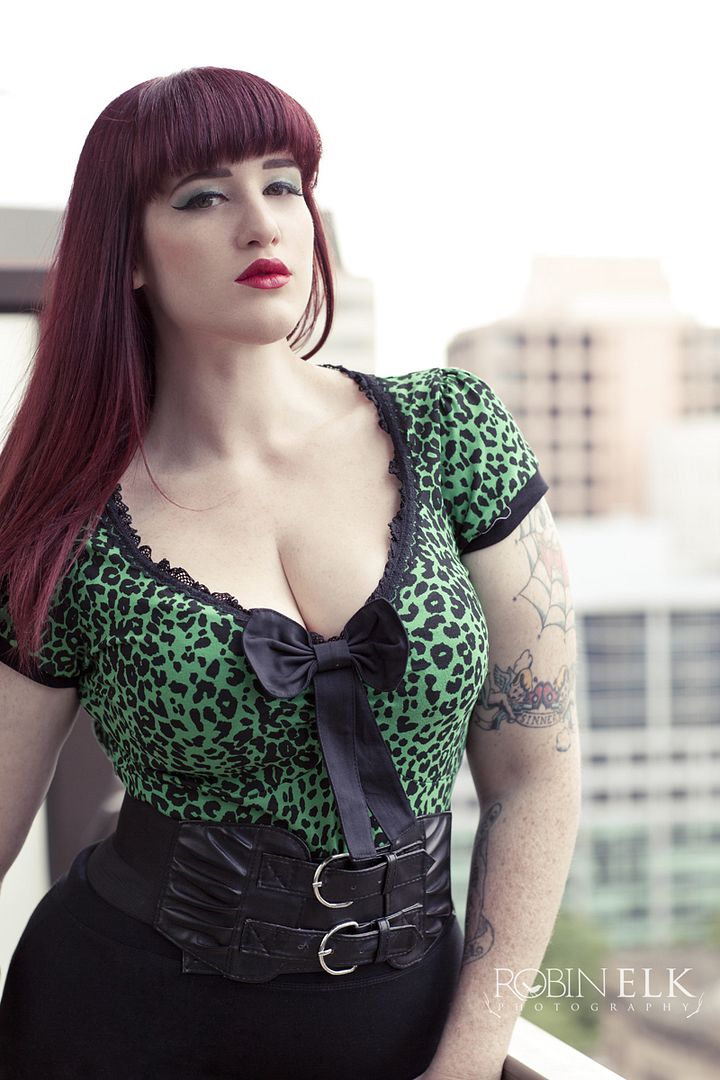 Lulabelle Green Leopard Top
- $48.00
Hotness in top form! The Lulabelle top is amazingly sexy and so comfortable due to the stretch fabric. The neckline, sleeves and shape flatter larger busts and curves. The length of this top makes it suitable to be worn under high waist skirts and it's also long enough to wear with jeans.
This style also comes in grey, blue and tan and once you purchase one you will love it that much you need ever colourway. I'm also a huge fan of the Lulabelle in the
red and black pinup print
.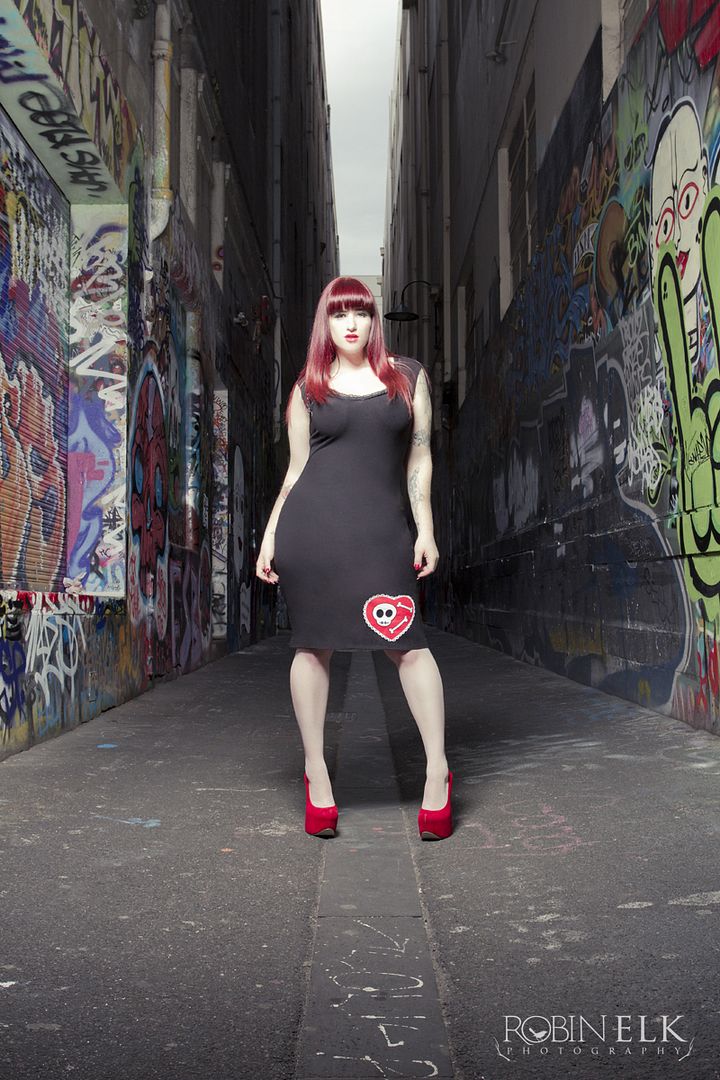 Be Mine Dress in Black
- $58.00
Eye Doll Platform from Luichiny
- $89.00
Little black dress for day or night, beach or bar - well this is the dress! Lace, buttons and a super cute skull, heart and bow motif make this absolutely adorable!
This dress is so comfortable - seriously I've been wearing it non stop! It hugs your curves and gives you that va va voom shape. I adore the lace around the neckline and can't wait to layer this up in the colder months as well with cute cardigans, jackets etc.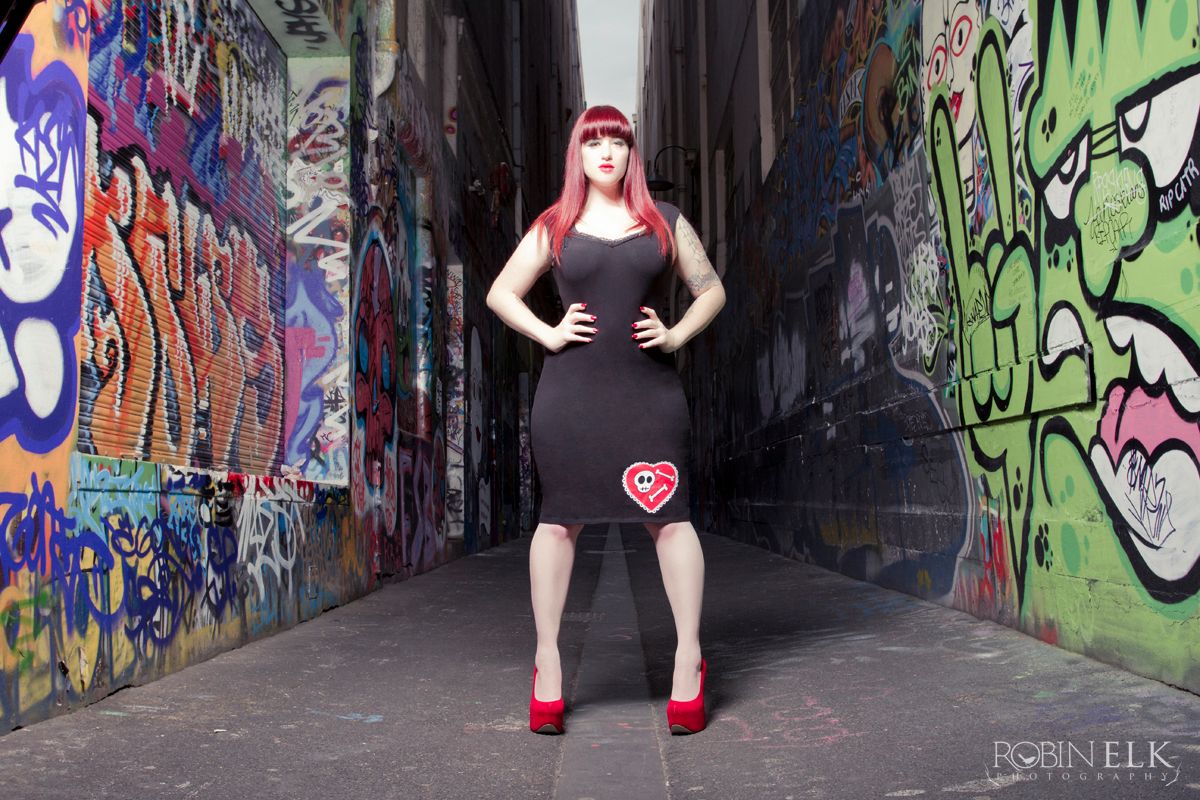 The Be Mine dress also comes in green leopard and stripe as well. Which do you lust after?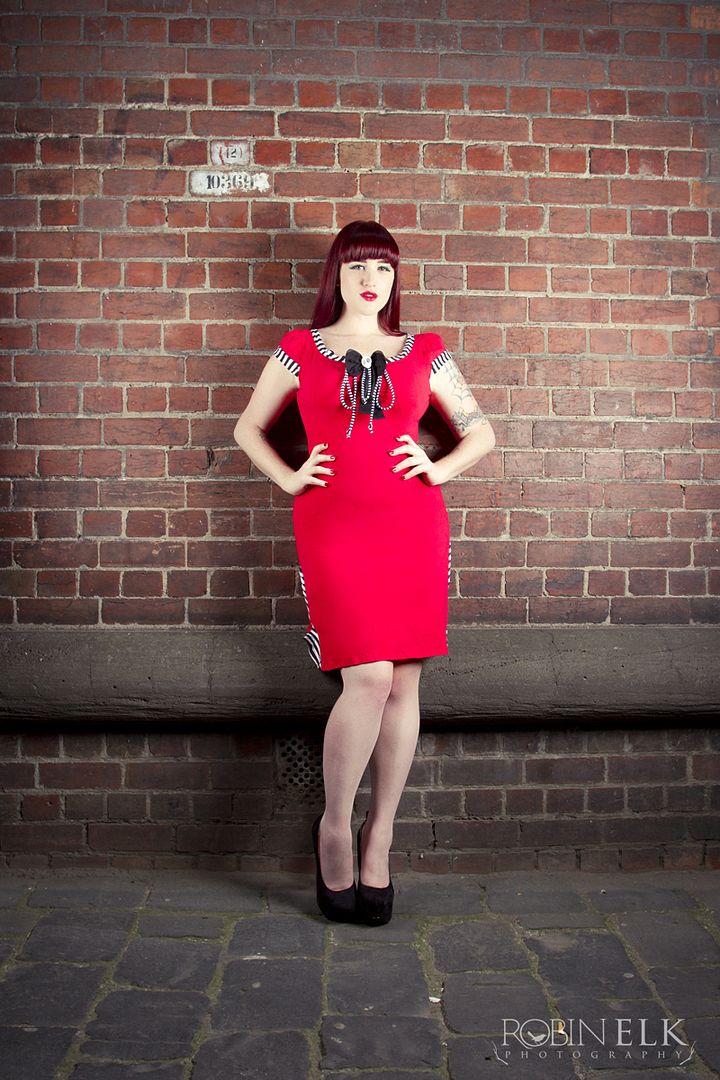 Mermaid Dress in Red
- $68.00
Eye Doll Platform from Luichiny
- $89.00
Bright red paired with black and white stripe - oooooooh so yummy! Nothing is more suited in my mind than these two things. This colour way does not seem to exist on the website but you can find the pink dot, red and white stripe and black versions are all up and for sale right now!
Now I was not sure how this was worn when I first tried it on and only since checking it out on the website have I discovered that long set of strings was actually a halter! But I really love the way I'm wearing it in these images. Just like the all of Jessica Louise's styles this dress is stretchy, comfortable and hugs my curves and hour glass shape perfectly.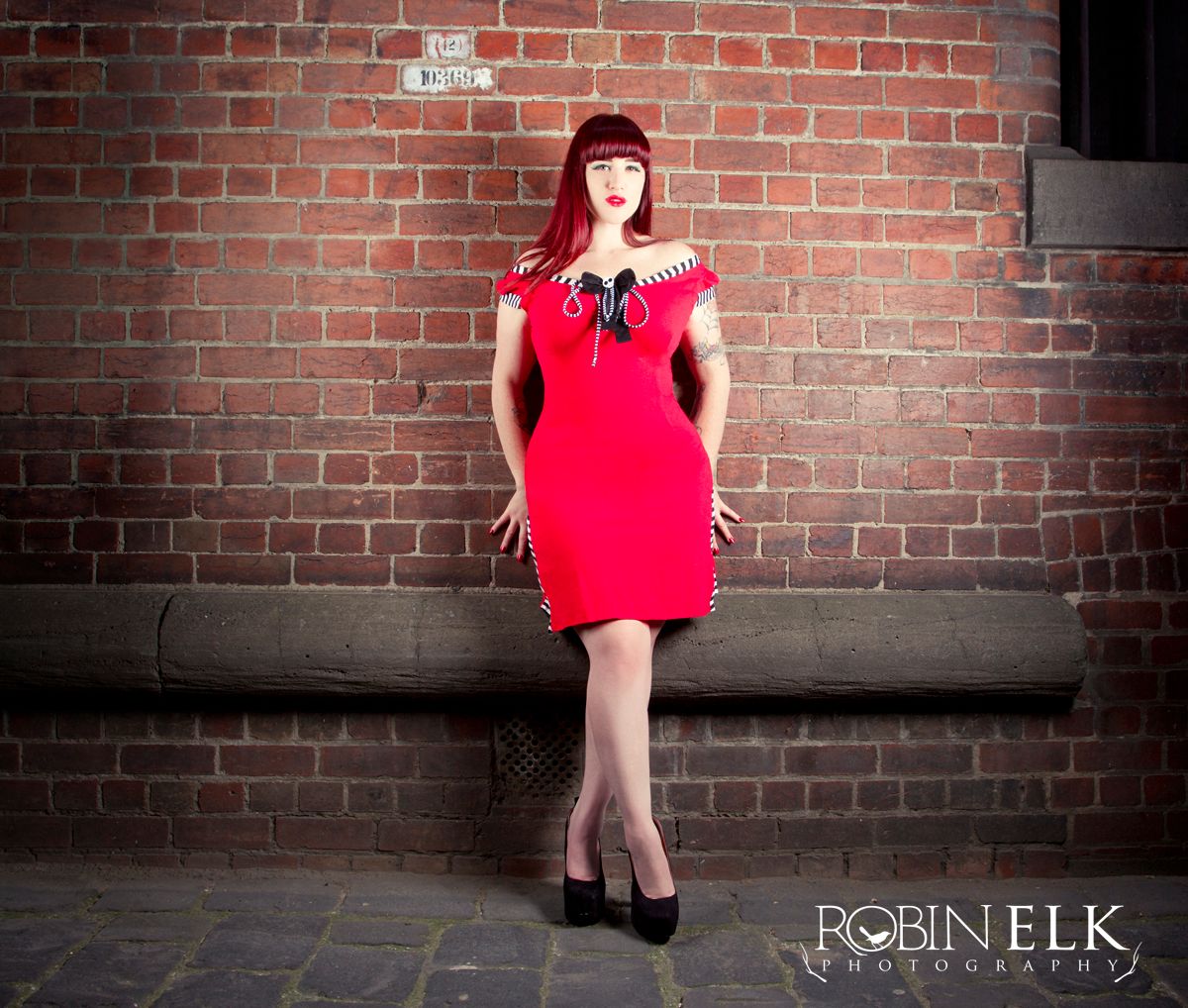 You can also wear this style off the shoulder as the cap sleeves work both up or down. The added extra of the bow and skull paired with the stripes give this dress a very Tim Burton like look which is brilliant.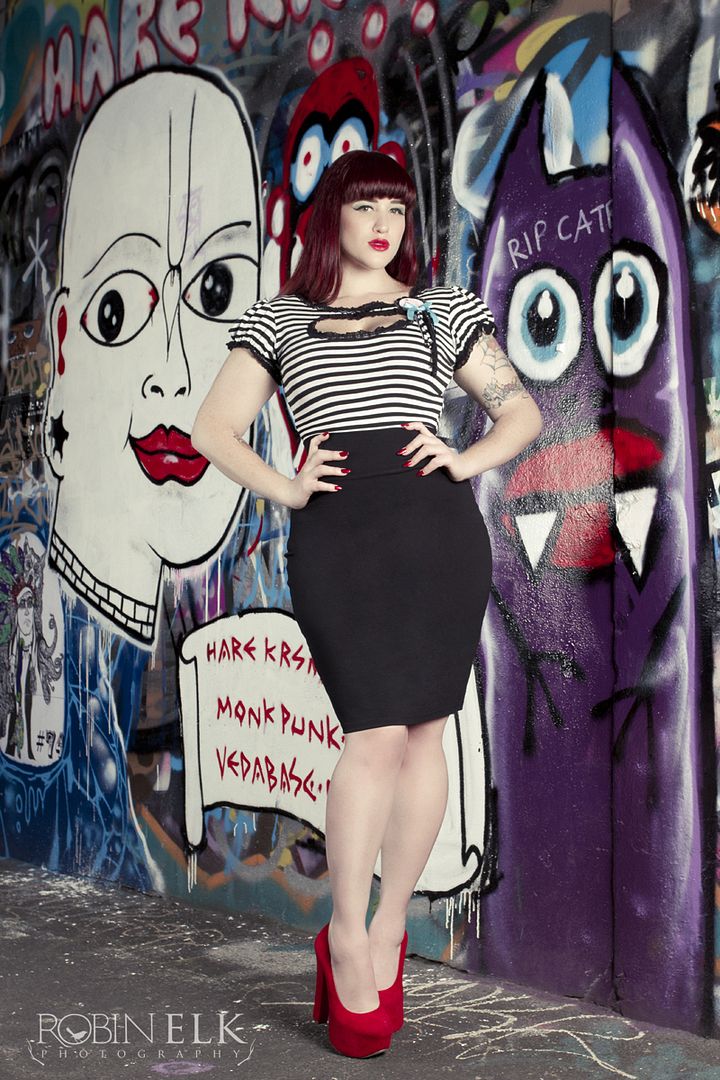 Cupcake Keyhole Stripe Top in Black and White
- $48.00
The keyhole top is brilliant for large chests. Showing off just the right amount of cleavage while still looking totally adorable and girly! I'm a huge fan of stripes and you should be too! Don't be afraid to wear horizontal stripes when you are curvy they don't make you look bigger at all they can compliment your figure or even make your curves look better.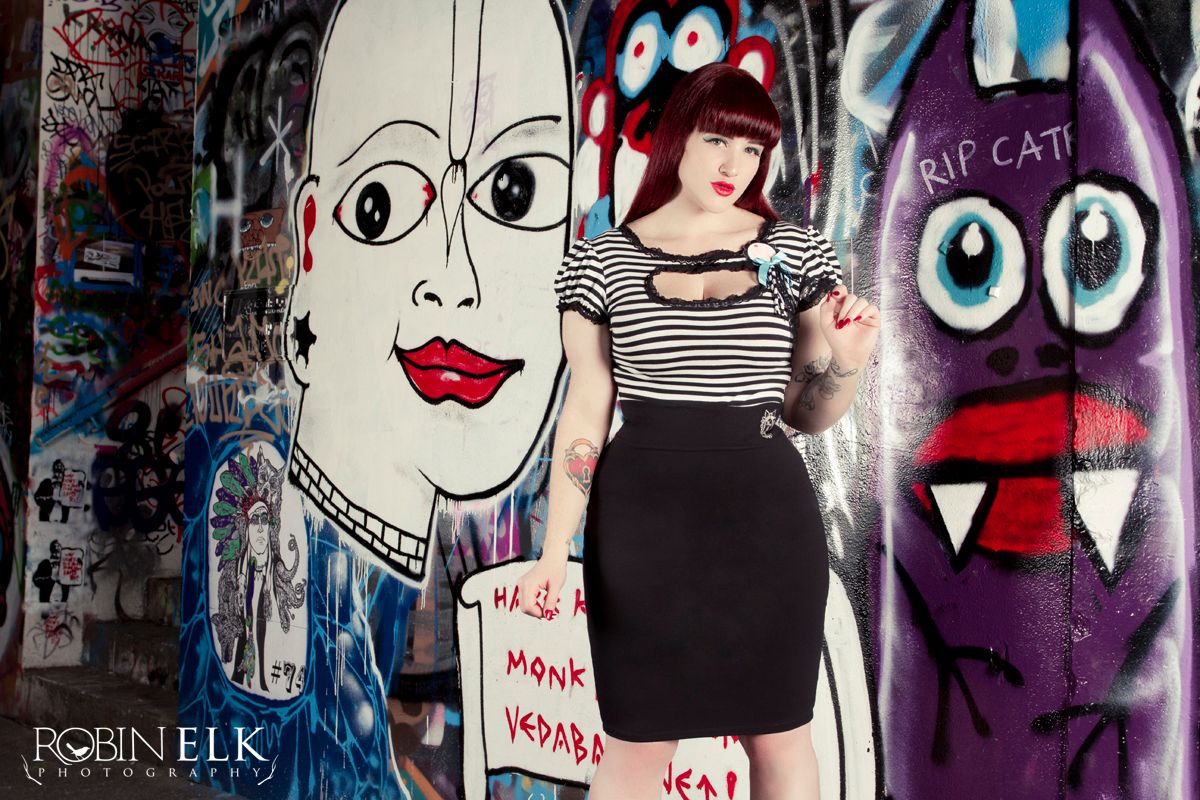 Now this top is long enough to wear on it's own but to break up the stripe I paired it with my favorite Wheels and Dollbaby Essential logo skirt and it really makes my curves pop. As a cupcake addict I absolutely love the cupcake pin and bow feature on this top.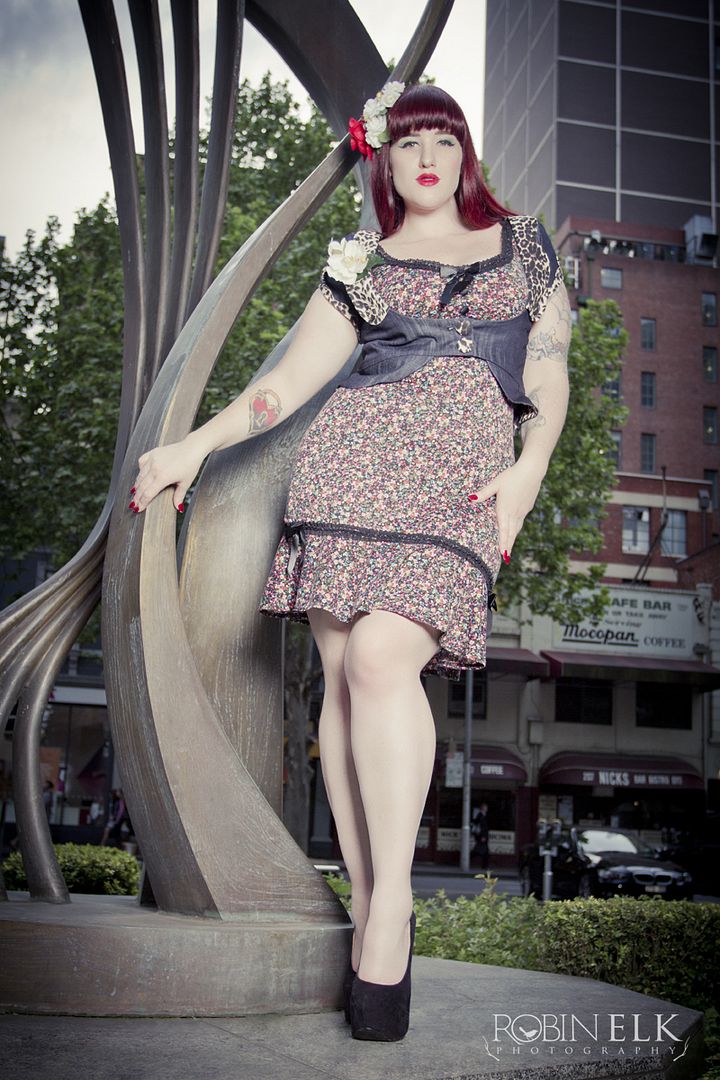 Flounce Dress in Floral - $55.00
Scallop Vest
- $55.00
Finally a perfect little floral dress for summer! I had my eye on the Flounce dress for a while now in the available prints so I was pleasantly surprised to find out Jessica had sent me this style in an adorable floral print.
A shorter style than the other two dresses but just as flattering and cute. I adore the use of lace on all of Jessica's dresses and tops. The ribbon, bow and button details make this little frock perfect.
Paired with the floral print is the super funky Scallop Vest in denim and leopard print. This adds that little bit more oomph to the outfit and that signature Jessica Louise styling.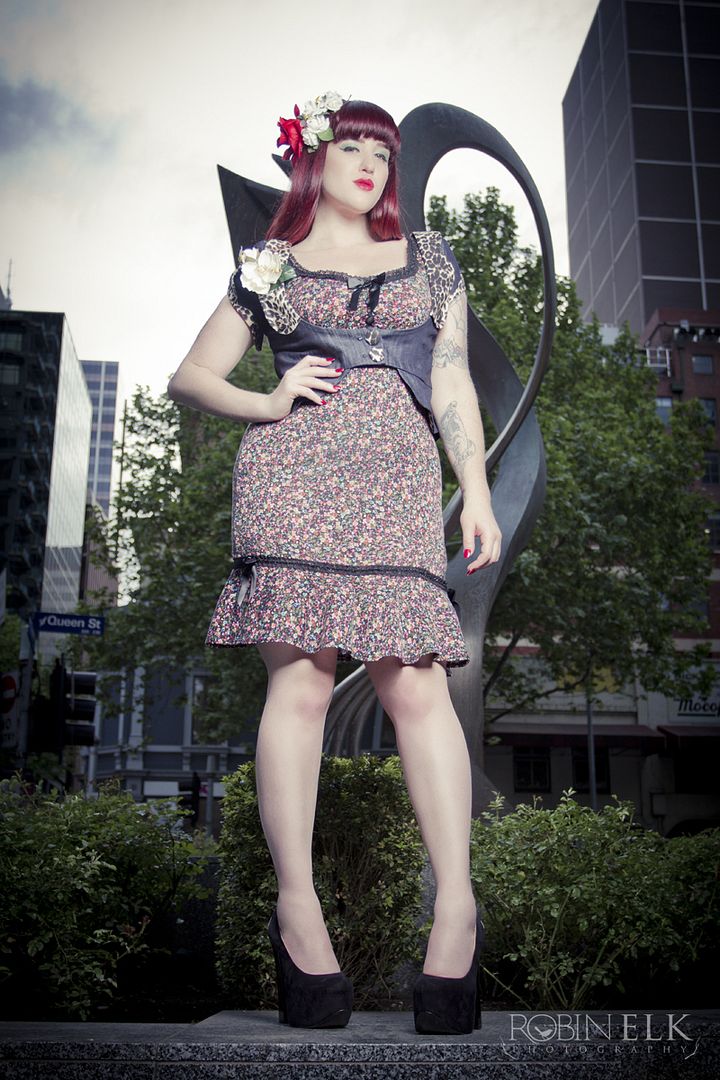 The vest also features the most adorable white flowers with tiny little bubble bees! You can see below the matching hair flowers that I'm wearing with this outfit.
I will be living in this as soon as the weather warms up and simply changing your shoes can make this move from a day dress to a night out on the town dress.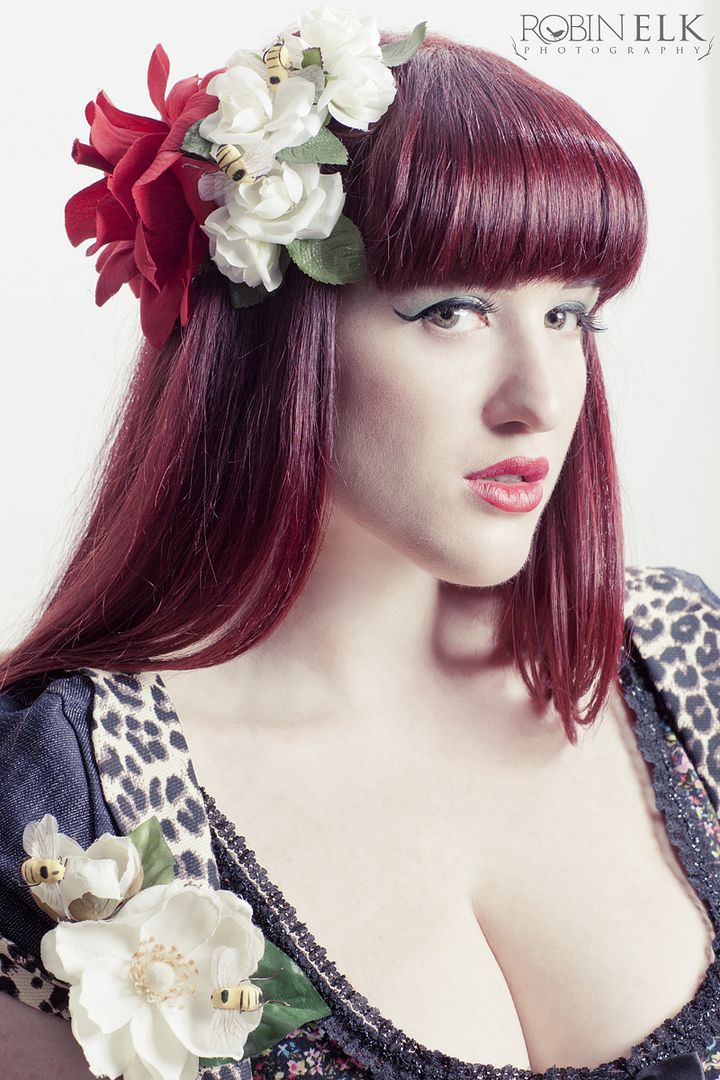 Finally the most adorable hair flowers in the world to match my Scallop Vest. Stunning white flowers with super cute little bees to wear in my hair. I wanted to add a lot more floral to this look so I added my own big rose at the back from
Andy's Eye Candy
. You can find other
accessories
via Jessica's online shop.
Now knowing that I'm an XL in Jessica Louise Clothing I'll be adding to my collection and hopefully visiting her store when I'm over in the US in March 2013